All-New 2020 Toyota Corolla
Re-imagined, Reconfigured, The All-New 2020 Toyota Corolla
Since making its introduction in 1966, there have been over 46 million Corollas sold globally. This is due to the Corollas efficient fuel economy, unmatched reliability, driving versatility, affordability, and high resale value. With 7 different trim levels to choose from, all packed with the latest safety and tech features, you can rest easy knowing that there is a Corolla for you. If you are looking for a sedan that you are proud to call your own, then look no further. The 2020 Corolla is here.
---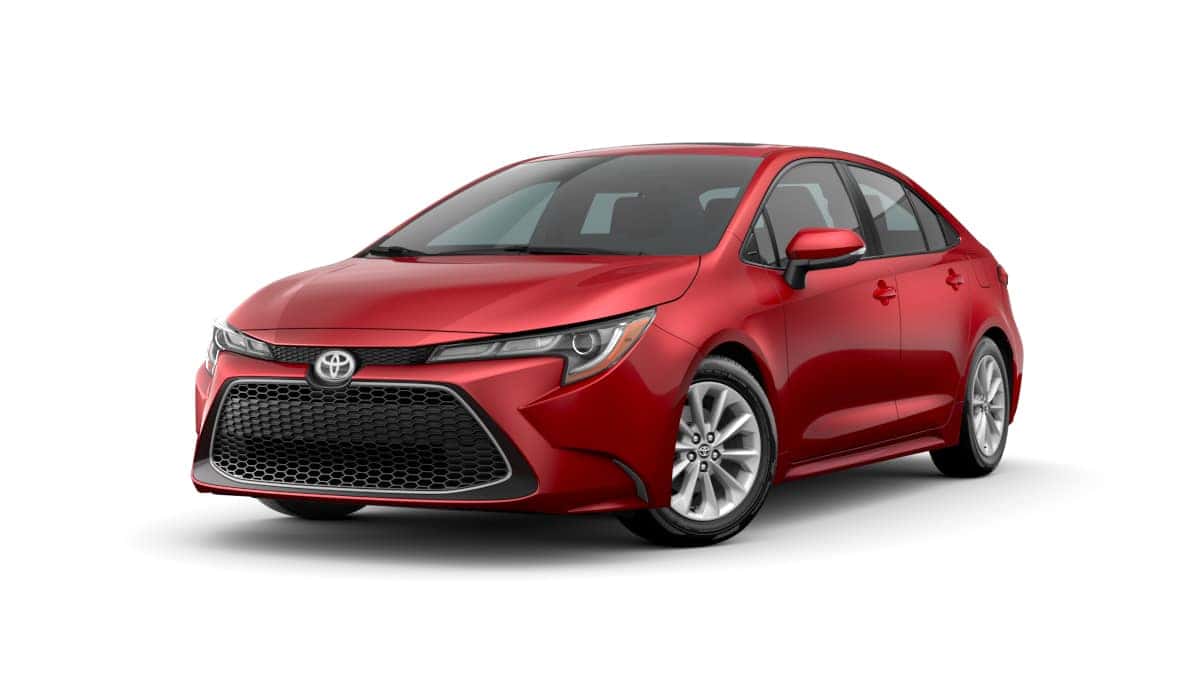 More Than a Form of Transportation
Gone are the days where the only purpose your car served was to get you from point A to point B. Our vehicles should be able to provide us with entertainment options, the ability to stay connected, and have features that make our lives easier, and that's exactly what you get with the 2020 Corolla. Enjoy features like:
– 8" Touch Screen Display
– Apple CarPlay
– Wi-Fi Connect
– Optional 9 speakers
– And MORE
---
Protecting You And The One's You Love
With an average of over 3,000 deaths per day related to car accidents, there is no such thing as being "too safe". The new 2020 Corolla comes packed with advanced safety features to help protect you and your passengers from harm's way. Let the Corolla help you stay safe with features like:
– Toyota Safety Sense 2.0 with Pre-Collison warning
– Pedestrian Detection with low light pedestrian detection
– Lane departure alert with steering assist
– Road sign assist
– Lane tracing assist
– Radar Cruise Control
These are just a few of the many technologies available on the new 2020 Corolla to help drivers keep not only themselves safe, but also their passengers.
Performance Meets Affordability 
Who says that you have to break the bank to get a vehicle that gets great gas mileage and is still able to perform when needed? Get both in the new Corolla, this vehicle has an available 1.8-Liter or 2.0-Liter 4-cylinder DOHC 16-valve engine, producing 169 horsepower. That means that the 2020 Corolla offers over 20 more HP than the 2019 Corolla.
In addition to its improved engine performance, drivers will be happy to learn that the 2020 Corolla also comes with normal, and sport driving modes as well as an optional manual transmission. That means that you get efficient fuel economy (38 mpg on the highway) when you need it and top of the line performance when you want it.
---
The Best Of Both Worlds
One area where Toyota has really separated itself from the competition is in the hybrid arena, and the 2020 Toyota Corolla Hybrid is here to further that legacy.  Smooth, quiet and comfortable, the Corolla hybrid is perfect for those looking to save money at the pump and reduce their vehicle's impact on the environment. With an average fuel economy of 53 mpg combined, you can spend less time at the pump and more time on the road. Learn more about Toyota Hybrid technology and the other available hybrid models.